Blogging For Cody, The Fifth And Final Day
I would first like to thank those of you who have been faithfully coming by. The links and trackbacks mean so much to me and I look forward to returning to my usual bitching and humor. That will probably come back later on in the day, I have much to complain about.
In the days following the accident we learned much about the other boys. All of them had the same characteristics. They were all athletic, religious, intelligent, loving, giving and thoughtful. We heard many stories of volunteer work they performed and that they each were the kind of person who always thought of others first. My heart ached knowing that these eight fine, young men were removed from this planet and that the one who killed them, the one with a reputation for binge drinking, was still alive.
Cody's funeral was beautiful, there were over 600 people there. So many people were there that some had to stand outside. There were microphones set up around the church for everyone to tell their Cody stories. I found out that day that his family wasn't the only one who thought he was the greatest person in the world. The service lasted about twice as long as it should have and the processional to the cemetery was far too long. Colorado has made a law now that there can be no more than 25 cars in a funeral procession and I swear it must have come about because of Cody. LOL! When we arrived at the cemetery, the groundskeepers were impatient having been expecting us much earlier and it would soon be time for them to get off of work. I remember feeling as if they were vulture-like; waiting for all of us to leave so they could finish off what was left of Cody.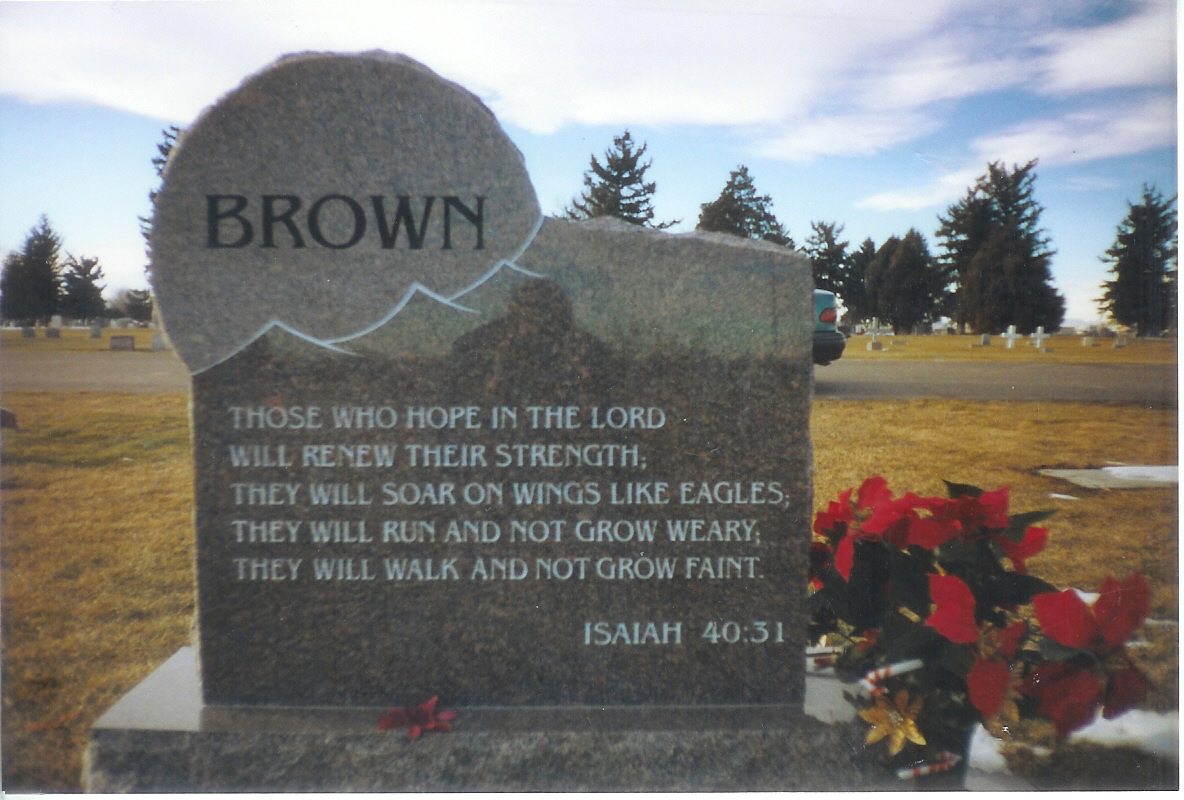 On the 25th the University of Wyoming held a memorial service for the boys. Our families were seated on the floor of their indoor arena and there were MANY students in the seats. We listened to Governor Jim Geringer, miscellaneous UW staff and the UW President Dr. Philip Dubois attempt to honor the boys. Many on the athletics staff did just that, but the governor, a man partially responsible for Wyoming law, I could not respect; and even worse was Dr. Dubois. UW was just coming out of the Matthew Shepard murder and had been desperately attempting to convey to the nation that they were not homophobes. Dr. Dubois took an opportunity to again stress that, stress it while there was media present, stress it when all of the families seated on that floor didn't give a flying fuck about Matthew Shepard that day. He spoke of how UW has changed and that they would not stand for sexual identity discrimination. Yet UW, claiming they came out of the dark ages, promotes alcoholism.
In the coming months we learned about several incidents of the university not acting upon drinking, and in some cases actually providing the alcohol to it's students. After the memorial service the families were invited to Dr. Dubois' home. There was food for all of us, but most disturbing, there was an open bar provided for us. An open bar with the liquor for it being removed from vans that said 'UW' on the side. All of the families just stood there and looked at the bar and thought "How could they do that? How?"
In the months following, my sister, and many of the other parents fought with the university to expel Clint. They were repeatedly told that they had no grounds to do it under. When at the same time in the media, we heard of a student expelled from Baylor for setting a cat on fire. Clint was a member of the rodeo team at UW and this accident divided the school. It became the athletic department against everyone else. Sides were chosen and eventually Cody's coach lost his job.

Wyoming's problems not only lie within its lack of drunk driving laws, but with their judiciary as well. Clint Haskins was found guilty but was only sentenced for 7 to 14 years with early release for good behavior. As it stands today, he will most likely be serving only 3 1/2 years to 4 years. He wasn't sentenced until May of 2002 and was allowed to finish college.
Since then I have seen two different people on two different occasions, wearing t-shirts that said the following:
"My drinking team has a rodeo problem"
It took everything I had not to confront those individuals. Binge drinking is a problem in many different groups, but is massive within the rodeo crowd. I had always enjoyed going to rodeos, and especially the National Western Stock Show. Since 2001 I have been unable to go and I hold much bitterness for that crowd.
There are changes that need to occur in this country. The federal and state governments need to recognize the seriousness of drunk driving and follow the examples set by other countries. Europe as a whole consumes twice the amount of alcohol the United States does, yet has virtually no drunk driving incidents. It's a combination of large public transportation systems and tough laws.
Once again, in the United States alone; 17,000 people are killed every year because of drunk driving. An additional 500,000 are injured because of drunk driving. I have received e-mails throughout the week with people saying, yes, I know someone affected by drunk driving. Who will it be next time? Will it be a friend, a co-worker, a spouse? Or will it be, God forbid, your own child?
I see no issue with enjoying an alcoholic drink. But when your problem is so large that you over drink and then chose to get behind the wheel; you should be shot. What is the difference between a drunk climbing behind the wheel and a person randomly firing a gun into a crowd? Nothing, both have the ability to be fatal to someone.
Hug someone you love, for you may never be able to do it again after today. And if you know someone who has a drinking problem, confront them. Their problem extends far beyond themselves, it has the potential to kill the innocent and destroy the family that has been left behind.
Dear Lord:
Please be with the families today as we remember, as we grieve, and as we ask that people understand the importance of this epidemic.
Amen
Cody B. Brown
Hudson, Colorado
June 30, 1980 - September 16, 2001
Kyle N. Johnson
Riverton, Wyoming
July 15, 1981 - September 16, 2001
Joshua D. Jones
Salem, Oregon
July 10, 1979 - September 16, 2001
Justin M. Lambert-Belanger
Timmins, Ontario
June 6, 1981 - September 16, 2001
Morgan J. McLeland
Gillette, Wyoming
February 1, 1980 - September 16, 2001
Kevin L. Salverson
Cheyenne, Wyoming
November 25, 1981 - September 16, 2001
Nicholas J. Schabron
Laramie, Wyoming
July 6, 1981 - September 16, 2001
Shane E. Shatto
Douglas, Wyoming
September 30, 1981 - September 16, 2001
Technorati Tag drunk driving

Posted by Stacy at September 16, 2005 12:43 PM | TrackBack