Rasputin's Power
Staying on theme still; if you feel I'm being vulgar then you're not reading thoroughly.
I have always been intrigued with Russian history and the Bolshevik Revolution in particular. The long history of the czars, the deep religious roots of Russia, the events that ushered in communism; but mostly Rasputin.
Who was this man that had controlled the court of Czar Nicholas II? Who was this man that had the ability to control women? Rasputin was not exactly an attractive guy.

Rasputin
It was always my belief that Rasputin was demon possessed (yes I believe in that kind of stuff). Some of the aristocrats witnessing the control that he had, tried on several occasions to assassinate him without success. They eventually drugged him, shot him, wrapped him in a carpet and placed him in a frozen river. It was reported that when they recovered his body that there was evidence that he was still alive for quite awhile after being placed in the river.
But there is another theory as to Rasputin's power over women. Apparently he was well endowed.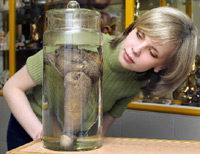 From 4 Men's Health

In a more innocent age, it was said that Gregory Efimovich Rasputin's legendary power over women was due to his piercing eyes.
But a new museum of erotica here suggests that the mad monk's charm may instead have been, ahem, concealed beneath his cassock.
Measuring 28.5cm (about 11 inches) - allowing for shrinkage caused by pickling - Rasputin's penis displayed in a tall glass bottle is, to put it delicately, a big attraction at the museum.
Director Igor Knyazkin said he bought the object from a French antiquitarian for $US8,000 ($A11,500), along with several of Rasputin's hand-written letters.
Of course it must be said, it's not known if he has a certificate of authenticity for such a remarkable piece.
Reputed both for his mysticism and his debauchery, Rasputin was a powerful influence at the court of the Romanov Czars.
Concerned about his unusual hold over the Empress Alexandra, a group of aristocrats decided to kill him to save Russia.
They lured him to an assignation in 1916, fed him drugged cakes, shot him and finally killed him by wrapping him in a carpet and throwing him into the frozen Neva river.
The aura of sexual power and mysticism lives on. Some Russians think just by staring at the object, they can cure sexual impotence. One visitor asked Knyazkin if this is true. "Without a shadow of doubt," he replied with a smile.
Knyazkin, 37, a urologist and sexologist, set up the museum in the clinic he runs, partly with the aim of helping his patients overcome impotence. The atmosphere of the museum makes patients "more optimistic and relaxed," he said.
"The aim of the doctor is to free his patient from anxiety and fears. Men who come here are ill at ease because of their problems, and our light and happy atmosphere reassures them."
Only part of Knyazkin's collection of 12,000 erotic objects is displayed in the clinic, which is staffed by buxom nurses wearing short white blouses and high heels.
"I keep the valuable stuff at home," he said.
What can we learn from this?
Alexandra, the wife of Nicholas, was captivated by Rasputin. She felt as if he were sent by God to help with her dying son. Did she have a sexual relationship with him? Don't know. But in seeking to save her son she feel prey to a false prophet. The relationship that the Romanov family had with Rasputin was in part, the beginning of the end for the great czars of Russia. The Bolshevik revolution followed the assassination of the family and Stalin and his communist regime gained control.
This is a lesson in understanding the power sexual relationships have over us. It's a lesson that there is indeed evil in our world that often comes diquised as good. The Bible teaches us to be cautious and aware of false teachings and prophets. Historically socialism has never functioned well, yet many countries are on the verge of full-blown socialism.
With all of the reading I've done on Russia, it's history is somewhat like ours. There was a strong devotion to religion. It wasn't a democracy, but many citizens were pleased with the leadership the Romanov czars offered them. But men, bent on seeking secularism, seeking socialism, brought down this great empire. This is why we need to be vigilant and aware of the actions taking place within our own country right now. The baby steps many on the left are taking are leading us to the same path that Russia took.
Posted by Stacy at July 25, 2005 10:40 AM | TrackBack